South Middleton Township, population 13,000, abuts the Borough of Carlisle, 20 miles west of Harrisburg, Pennsylvania.  The northern half of the Township is part of a valley that extends from Maryland north and east to the Susquehanna River at Harrisburg. The southern half of the Township contains a portion of the South Mountains and features a segment of the Appalachian National Scenic Trail. The Township uses TDR to preserve open land, environmentally sensitive areas and rural character.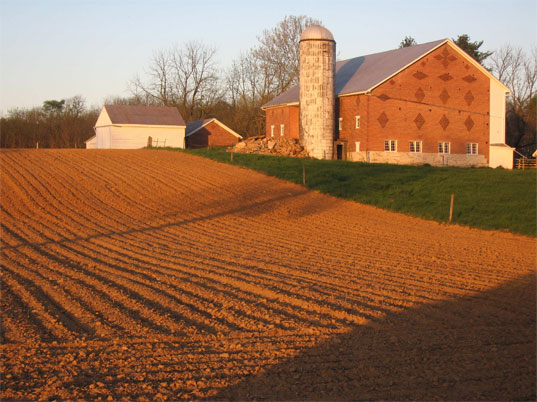 South Middleton Township, Cumberland County, Pennsylvania, uses TDR to preserve open space, environmentally-sensitive land and rural character.
Sending areas must be zoned either AC (Agricultural Conservation) or RL (Residential Low-Density), be at least 15 acres in size and contain at least one of the following resources: 1) prime farmland or agricultural land; 2) riparian areas with associated wetlands and floodplains; and 3) historic, scenic or cultural resources identified on the South Middleton Township Official Map. Sending sites may be used for passive recreation when they are acquired by the Township.
To determine the number of TDRs available for transfer, sending area landowners must submit a plan of the proposed sending site prepared by a surveyor depicting the property boundaries and all existing buildings, topography, flood plains, easements and rights of way. To calculate baseline acreage, the total tract area is reduced by: 1) the area of land already precluded from development by easements or other restrictions; 2) land within rights-of way; 3) the area that results when the number of dwelling units on site is multiplied by the minimum lot size for the zoning district applicable to the sending site; and 4) any part of the site not within the sending area. This baseline acreage is then divided by 2.3 for land zoned AC or by 1.5 for land zoned RL.
Receiving areas are lands located in the RM (Residential Moderate Density) or RH (Residential High Density) zoning districts or cluster developments in the AC or RL districts. The RM and RH districts have separate requirements for development depending on whether or not developers choose to exceed baseline density. For example, in the RM zone, minimum lot size without TDR is 15,000 square feet for a single-family detached dwelling. But when developers use TDR the lot size is determined by the following formula: 37,000 square feet divided by the TDR credits/total acres + 2.5.
In a message sent in April 2006, Timothy Duerr, Planning Chief of Middleton, reported that the Township's TDR program had preserved 26.8 acres on two properties. At that time another 93 acres were proposed to be preserved through two subdivision applications that had received Planning Commission approved and were expected to be approved by the Board of Supervisors.